99 Court Street was built in the mid-19th Century, and was once the residence of Judge Charles Button. It currently houses one medical office, three apartments, and one multi-use space distributed between the main building and carriage house.
Conveniently located within walking or biking distance of everything in Middlebury, from the Hannaford shopping complex to the Court Street business corridor, the Middlebury High School/Hannaford Career Center and beyond.
There is currently one living and/or office apartment (945 s/f) available in this quiet living/working community.
Rent can be structured in a variety of ways, including "triple net," depending on the tenant needs. It can also be set up for part-time residential occupancy, with remaining time professionally managed through Airbnb with the proceeds credited against rent and utilities.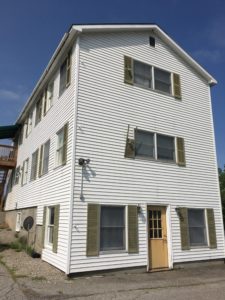 99 Court Street has plenty of off-street parking. Use the handy contact form to send us a message and arrange a time to see the space and envision how you might join this vibrant residential/commercial community.